Monzingo Placement: Law Office Manager, Hartford, CT
Monzingo Legal Search is happy to announce our most recent placement for our client, a Hartford law firm, seeking an Law Office Manager for their multi-office firm. The ideal candidate had a background in legal administration or legal assistant with client intake experience and abilities as well as excellent proofreading, calendaring, reports and general office maintenance. The firm values characteristics and accomplishments over education and experience in their evaluation and annual review process.
Responsibilities
– Communicate with clients frequently with excellent telephone etiquette and a smile
– Type and proof legal documents
– Maintain attorney calendars
– Court filings by Connecticut e-file procedures
– Serve as Intake Specialist fielding over 100 leads per month by responding to new client inquires, calendaring consultations and tracking marketing data
– Work with outside vendor on monthly billing and invoices; assist with accounts receivable and trust account replenishments
– Liaison with accountant to answer any accounting questions
– Greet potential clients and visiting attorneys to the office
– Order supplies and maintain the general office areas
– Coordinate employee benefits as Law Office Manager
Success Factors
– Flexible team player
– Compassionate and congenial
– Committed to excellence
– Positive attitude and ability to effectively communicate with attorneys, staff, vendors and clients
– Initiative
– Effective communicator
– Confidentiality
– Comfort with learning new technology is a must
– Reliable Problem-solver
– Proactive
– Take ownership of responsibilities
– Superior follow-up capabilities
– Patience and diplomacy in dealings as Law Office Manager
– Common Sense
Tech Skills to Master
– Clio
– MS Office (Outlook, Word, Excel)
– G-Suite
– DropBox
– Family Law Software
– Monday.com
– LawPay
– PracticePanther
– MyCase
– CRM
– Adobe
Requirements
– Experienced Legal Administrative Assistant, Execute Assistant or Law Office Manager with a minimum of 4 years of experience in the legal industry
– Superior grammar, spelling, writing and proofing
– High school diploma; college degree preferred
– Law firm experience in administration or as legal assistant
– Professional administrative and clerical skills as to typing, calendar, technology, organization and prioritization
– Possess all of the Success Factors listed above
Compensation and Benefits – Law Office Manager
– A congenial and dynamic work environment of motivated professionals working together as a successful team that is proud of its accomplishments and helping clients
– Room for advancement
– Competitive compensation
– Comprehensive benefits package including, medical and dental
– Generous PTO policy
Contact Us
If your firm is in need of a law office manager, we hope to help you with the search. To view other placements by Monzingo see post here.
ABOUT
Founded in 2013, Monzingo Legal Search is a national legal recruiting agency. Monzingo places attorneys, paralegals, legal assistants, and marketing and management professionals in law firms across the U.S. For more information, see www.monzingolegal.com or call (239) 770-8823.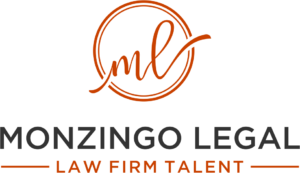 Share our post with others